Eritrea
List updated April 27, 2013
Country Total = 40
39 graves in 2 cemeteries
Completed = 38 (or 95.00%)
| | | | | | | |
| --- | --- | --- | --- | --- | --- | --- |
| Cemetery | SA War Dead # | SA serving in Non-SA units War Dead # | Rhodesian serving in Non-Rhod. units War Dead # | Total | Status - Complete, Underway, Part Done | Volunteer |
| Asmara War Cemetery | 22 | 2 | 4 | 28 | Part Done (27 of 28) - Missing J O R Collins 4. D. 9. | Ben and Kathryn Holme / Dan Hamer |
| Keren War Cemetery | 7 | 2 | 3 | 12 | Part Done (11 of 12) - Missing R W HOROBIN 3. B. 14. but whole cemetery could be reshot | Dan Hamer |
ASMARA WAR CEMETERY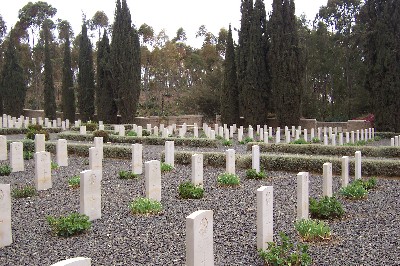 Asmara War Cemetery - Photo © Ben and Kathryn Holme
Asmara is the capital of Eritrea. The Cemetery lies among wooded hills, about 100 metres south of the main road from Asmara to the port of Massawa on the Red Sea. The Italian stronghold of Keren was taken by Commonwealth forces at the end of March 1941 and the retreating Italian force pursued to Asmara, which was occupied on 1 April. Asmara War Cemetery contains the graves of those killed in the latter stages of the East African campaign, or who died subsequently at the garrison stationed at Asmara. The cemetery contains 273 Commonwealth burials of the Second World War, 14 of them unidentified. There are also six war graves of other nationalities and five non-war burials.
COLLINS J O R JOHN OLIVER ROSS Sergeant Obs. 776207 Royal Air Force Volunteer Reserve 237 Sqdn. 17-May-41 0 4. D. 9. . On St. George's College War Memorial, Harare, Zimbabwe

KEREN WAR CEMETERY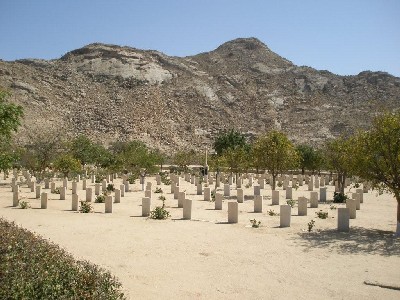 Keren War Cemetery - Photo © Dan Hamer
The small town of Keren is about 90 kilometres west of Asmara. Keren War Cemetery is 2 kilometres west of the town. The site, on top of the famous Keren pass and overshadowed by Cameron's Ridge on the opposite side of the road, was presented by the Chief and the Community of Ad Hadembas, and an inscription recording this has been built into the cemetery wall.